The DeTomaso Pantera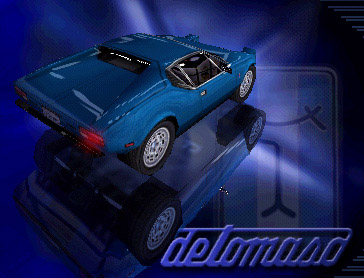 March 30, 1999
Well the Pantera L model is done and available to download.
Features that set it apart from the other NFS cars:
Scale proportions, detailed window trim, personalized license plate, tire treads, visible rear suspension, readable logo scripts and a true to the actual underbody.
(click on images below for larger views)
What is a DeTomaso Pantera you ask? Well in my opinion it is one kick-ass exotic muscle car! Yet good examples can be found for a fair price. It has the best of both worlds with Italian design and a Ford 351C engine. Having the 351 Cleveland engine gives the Pantera '70s muscle car status, yet being Italian designed and built also puts it in the ranks of an exotic Italian sports car. Its mid-engine design gives it exceptional handling and balance. The car was available in the US at Lincoln/Mercury dealers in the early '70s.
For more info on the Pantera visit these sites:
POCA (Pantera Owners Club of America)
My Silver State Challenge Story
3D model, 2D art and sound effects created by Curt Toumanian of Digital Thunder, Inc..
Performance and handling data created by Rob McMullen.
Model was created using CarCAD available at NFSIII Car CAD homepage .
All images and files of this website are property of Digital Thunder, Inc. and may not sold or distributed without permission.