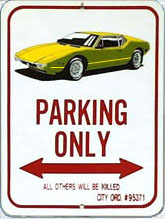 Doug's Mannifesto
If you can't beat them, cheat.
***
Words to live by, words to win by. Drink beer. Don't marry unless you want to sell all your toys. Drink milk, it does a body good. Drive American, unless you like being a weenie. If you aren't going to go all the way, stop before you waste your time. Drink lots of beer.
***
Always watch TV from a Lazy Boy Chair. Always hoot at the chicks. Always kick ass in fights. Always cheat if you think you're going to loose! Always drink American beer.
***
If someone is in your way, push 'em out of it, man, who the hell do they think they are for getting in your way. I'm number one and I can prove it. You got to live full, fast and fun, because you are going to die someday.
***
How do you know when your on the right D-Mann track? When women slap you, and you have pending lawsuits.
***
D-Mann
Send complaints to:
They will be properly ignored in a quick and orderly fashion.
Home Page / Hot Pantera Specifications / Doug's Mannifesto / Picture Gallery